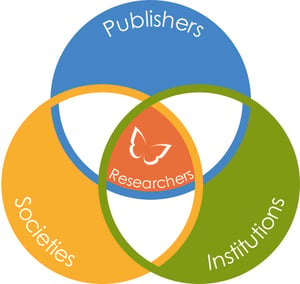 For immediate release, June 7th, 2016 — Kudos (www.growkudos.com), the award-winning service for maximizing the reach and impact of research publications, has announced the latest publishers and institutions to begin using its services.
The University of Kent is a leading and forward-thinking research institution, committed to the transformative power of education and research and to the development and support of students and staff – "Kudos fits nicely into our strategy," notes Kirsty Wallis, Research Support Librarian.
The American Gastroenterological Association has over 17,000 members and publishes two journals and a range of newsletters and magazines. The association will be the first to benefit from a new Kudos service which provides insight into authors' communications for organizations whose publishing program is managed by a third party.
University of California Press is one of the United States' most forward-thinking scholarly publishers. For more than 120 years, it has championed work that influences public discourse and challenges the status quo in multiple fields of study. "Giving voice, reach, and impact to our authors is at the core of our mission," notes UC Press Director Alison Mudditt. "Leveraging Kudos' author and publisher tools helps advance this mission by making the important work of our authors more discoverable and impactful."
If you'd like to join the growing list of publishers and institutions working with Kudos to better amplify, support and learn from researchers' communications around their work, please let us know – particularly if you'd like to meet at one of the following forthcoming events:
ARMA conference, June 6-8, Birmingham, UK
EARMA Annual Conference, June 20-22, Luleå, Sweden
LIBER Conference, June 29-July 1, Helsinki, Finland
ISMTE North American Conference, August 11-12, Philadelphia, PA, USA
VIVO Conference, August 17-19, Denver, CO, USA
American Chemical Society National Meeting and Exposition, August 21-23, Philadelphia, PA, USA
-- ENDS --
Contact:
Charlie Rapple
charlie.a.rapple@growkudos.com
+44 1865 872527
About Kudos
90,000 researchers have signed up to use Kudos' free platform for managing communications around their publications – across multiple publishers and tools. They explain work in plain language and generate trackable links for sharing via email, web and social networks; these enable communications to be directly mapped against views, downloads, altmetrics and citations. Kudos thereby provides researchers, and their publishers and institutions, with a rich understanding of which channels and activities are most effective for broadening reach and impact. Kudos has 65 publisher customers around the world, including Wiley, Taylor & Francis, Cambridge University Press, the Royal Society and the American Academy for the Advancement of Science. Institutional customers include the University of Huddersfield, Carnegie Mellon University and ETH Zürich. Recent analysis of Kudos data indicates that full text downloads on the publisher site are 23% higher when the Kudos toolkit is used. Kudos was named Best New End User Product at the 2014 Charleston Advisor Readers' Choice Awards and won the 2015 ALPSP Award for Innovation in Publishing. It has been named in Outsell's "Ten to Watch" for two consecutive years.