Research groups, departments, impact leads and units of assessment invited to join early access program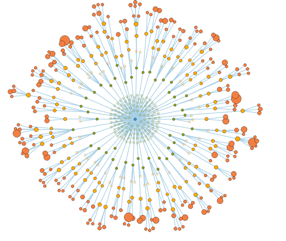 For immediate release, February 13th, 2018 –– Kudos, the award-winning service for maximizing the reach and impact of research publications, is launching a new dissemination management toolkit for research groups, university departments and REF Units of Assessment. Through this new service, research groups will be able to plan, action and report on a wide range of outreach activities for key outputs and projects, helping build a broad and international audience for their work, and accelerating its impact.
Kudos is offering a limited number of early adopter seats on a six-month preview program, giving early access to features that can be used by research groups to optimize usage, citations and engagement with policy makers, the media and public, industry and educators. The resulting activities and impact evidence will be exportable for university systems and other outcome reporting tools.
Kudos already provides outreach support to over 200,000 individual researchers worldwide, who use Kudos to explain and share profiles of their work (across both specialist academic networks and more generalist social media channels and email), and then to track the resulting impact on a wide range of metrics. Kudos has been working closely with publishers throughout this period to integrate dissemination into the author workflow.
Kudos has also been working with a range of universities over the past two years to provide data on these activities to central impact and communications teams, helping them support and guide researchers in how and where to communicate about their work to improve its performance. This next generation of services from Kudos builds on this experience and momentum with authors at the point of publication, where they are most motivated to undertake outreach.
"Researchers are under growing pressure to more proactively disseminate their work," says Melinda Kenneway, Executive Director and Co-founder of Kudos. "As a condition of funding, research groups are increasingly required to produce and action a dissemination plan, often with limited resources and little if any intelligence on what is actually effective. We will help them plan, manage and track all this activity with easy output formats to populate university systems."
"Our initial focus for support is within the UK," adds Charlie Rapple, Sales & Marketing Director and Co-founder of Kudos. "The next three years is a critical period for UK universities in preparing for the REF. There is a three-year window of opportunity for research groups to use Kudos to help accelerate the potential impact of their work and boost REF scores. We are keen to hear from any large research groups, departments or Units of Assessment who are interested in piloting and helping shape our development of these services."
The pilot commences in March and will run through the summer, with the full service launching in the later part of the year. Participation in the pilot is limited and offered on a first come first served basis. For more information please contact: charlie.a.rapple@growkudos.com.
-- ENDS --
Contact:
Charlie Rapple • charlie.a.rapple@growkudos.com • +44 1865 872527
About Kudos
Over 200,000 researchers have signed up to use Kudos' free platform for managing communications around their publications – across multiple publishers and tools. They explain work in plain language and generate trackable links for sharing via email, web and social networks; these enable communications to be directly mapped against views, downloads, altmetrics and citations. Kudos thereby provides researchers, and their publishers and institutions, with a rich understanding of which channels and activities are most effective for broadening reach and impact. Kudos has over 100 publisher, institutional, society and corporate customers around the world. Recent analysis of Kudos data indicates that growth in full text downloads on the publisher site is 23% higher when the Kudos toolkit is used. Kudos won the 2015 ALPSP Award for Innovation in Publishing and has been named in Outsell's "Ten to Watch" for three consecutive years; Outsell recently assigned a "positive" rating to Kudos' new "shareable PDF, describing it as a "a pragmatic solution to a key industry issue".