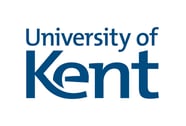 For immediate release, May 16th, 2018 –– Kudos, the award-winning service for maximizing the reach and impact of research publications, has announced that the University of Kent is the latest institution to sign up for its dissemination management services. The University's Office for Scholarly Communication, which works closely with the institution's Research Services and Information Services, selected Kudos to help deliver on its objectives for broadening the reach of Kent's research outputs.
"The aim of the Office for Scholarly Communication is to help researchers communicate their research to their desired audience in the most effective way, including discovering new dissemination routes, embedding communication from research idea to publication and ensuring that all researchers are aware of, and supported in, the most appropriate routes for dissemination. Kudos offers us valuable insight on how effective a method of communication for a particular article, showing where the most return for effort is, freeing up research time. It also gives us the data to analyse trends, to enable us to work with researchers to create manageable dissemination plans. Kudos also provides a platform for a lay summary and author perspective to sit alongside the research output – giving context and insight for the non-specialist reader."
"No academic has huge amounts of time to focus on dissemination, but Kudos makes it remarkably easy not only to distribute links across a range of communications media, but also then to track how many times your work has been discussed, read or cited as a result," adds Dr Michael Collins, Senior Lecturer in American Literature at the University of Kent's School of English. "In the context of the scepticism that some academics have about REF and promotion of research, Kudos allows us to have greater control of that process. That is a great and powerful thing!"
By channelling researchers' communications about their work through a central system, and mapping these actions against a range of metrics, Kudos provides institutions with deep, actionable insight into the most effective ways to accelerate research impact. Its reports and tools uniquely enable institutions to understand, amplify and support researchers' efforts to improve the performance of their work. The system currently has over 225,000 users across more than 10,000 institutions, and is growing by approximately 1,500 users per week. To find out the number of Kudos users at your institution, please contact Charlie Rapple (charlie.a.rapple@growkudos.com).
-- ENDS --
Contact:
Charlie Rapple
charlie.a.rapple@growkudos.com
+44 1865 872527
About Kudos
225,000 researchers have signed up to use Kudos' free platform for managing communications around their publications – across multiple publishers and tools. They explain work in plain language and generate trackable links for sharing via email, web and social networks; these enable communications to be directly mapped against views, downloads, altmetrics and citations. Kudos thereby provides researchers, and their publishers and institutions, with a rich understanding of which channels and activities are most effective for broadening reach and impact. Kudos has over 100 publisher, institutional, society and corporate customers around the world. Recent analysis of Kudos data indicates that growth in full text downloads on the publisher site is 23% higher when the Kudos toolkit is used. Kudos was named Best New End User Product at the 2014 Charleston Advisor Readers' Choice Awards and won the 2015 ALPSP Award for Innovation in Publishing. It has been named in Outsell's "Ten to Watch" for three consecutive years and was voted one of the Top 3 emerging companies in the global information industry at Outsell's Signature Event in 2017. To find out more about Kudos, visit www.growkudos.com
About the University of Kent
Established in 1965, the University of Kent – the UK's European university – now has almost 20,000 students across campuses or study centres at Canterbury, Medway, Tonbridge, Brussels, Paris, Athens and Rome.
It has been ranked 22nd in the Guardian University Guide 2018 and 25th in the Complete University Guide 2018, and in June 2017 was awarded a gold rating, the highest, in the UK Government's Teaching Excellence Framework (TEF).In the Times Higher Education (THE) World University Rankings 2015-16, it is in the top 10% of the world's leading universities for international outlook and 66th in its table of the most international universities in the world. The THE also ranked the University as 20th in its 'Table of Tables' 2016.
Kent is ranked 17th in the UK for research intensity (REF 2014). It has world-leading research in all subjects and 97% of its research is deemed by the REF to be of international quality.
In the National Student Survey 2016, Kent achieved the fourth highest score for overall student satisfaction, out of all publicly funded, multi-faculty universities. Along with the universities of East Anglia and Essex, Kent is a member of the Eastern Arc Research Consortium (www.kent.ac.uk/about/partnerships/eastern-arc.html).
The University is worth £0.7 billion to the economy of the south east and supports more than 7,800 jobs in the region. Student off-campus spend contributes £293.3m and 2,532 full-time-equivalent jobs to those totals.
Kent has received two Queen's Anniversary prizes for Higher and Further Education.