Reveals which sharing services and platforms are most used by researchers, and which are most effective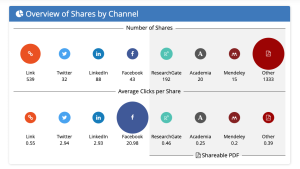 For immediate release, February 26th, 2019 – Kudos, the award-winning service for accelerating research impact through strategic communications management, today announced the launch of a new feature for publisher partners. The share channel comparator is a simple visualization providing information about where a publisher's content is being shared, and which of the channels being used are most effectively driving readership.
"The feature draws on Kudos' unique data set of communications by over 275,000 researcher-users, built up since 2013," says Colin Caveney, Head of Publisher Business Development at Kudos. "Our publisher partners have always been able to access and analyse data about where their authors are sharing, and to what effect – but this new 'at a glance' visualization is a powerful new summary, saving them time and effort. It's now easier to derive and act on insights from Kudos, in terms of evidence-based guidance to authors and marketers."
The share channel comparator builds on two other recent developments from Kudos – the Shareable PDF feature, which enables and tracks copyright-compliant sharing across Scholarly Collaboration Networks, and a new share tagging feature, which enables researchers to categorize and track their many other online and offline sharing activities.
"Shareable PDF is the first and only mechanism for capturing and comparing sharing and usage across Scholarly Communication Networks – for example, it has shown that ResearchGate is the most popular of the large networking sites for our users, with nine times the volume of shares compared to Academia and Mendeley," comments David Sommer, Kudos co-founder and Chief Product Officer. "Our share tagging has also been a revelation, showing that the 'long tail' of sharing – via channels such as events, email and offline discussion – collectively generates more engagement than the most popular channels. As pressure grows for researchers to increase the reach of their work, it's vital that the research community can properly evaluate the full range of platforms being used by researchers to increase the visibility of their work. We're excited that Kudos now makes it so easy to track, compare and report on the full range of research communications."
For Kudos Chief Product Officer David Sommer's more detailed description of the share channel comparator, visit this post.
For further information on how to partner with Kudos to gain access to these new features, please contact Colin Caveney, colin@growkudos.com, +44 1865 872527.
--ENDS--
Contact:
Charlie Rapple • charlie.a.rapple@growkudos.com • +44 1865 872527
About Kudos
Over 2750,000 researchers have signed up to use Kudos' free platform for managing communications around their publications - across multiple publishers and tools. They explain work in plain language and generate trackable links for sharing via email, web and social networks; these enable communications to be directly mapped against views, downloads, altmetrics and citations. Kudos thereby provides researchers, and their publishers and institutions, with a rich understanding of which channels and activities are most effective for broadening reach and impact. Kudos has over 100 publisher, institutional, society and corporate customers around the world. Recent analysis of Kudos data indicates that growth in full text downloads on the publisher site is 23% higher when the Kudos toolkit is used. Kudos won the 2015 ALPSP Award for Innovation in Publishing and has been named in Outsell's "Ten to Watch" for three consecutive years; Outsell recently assigned a "positive" rating to Kudos' new "shareable PDF, describing it as a "a pragmatic solution to a key industry issue".