In this set of two posts, I'm looking measuring research impact, and measuring research communications.
Measuring impact means planning impact
In my first post I looked at both long-term and short-term indicators of research impact. I concluding with the point that research communications are both key to achieving research impact in the long term – and key to tracking that impact as it develops in the short to medium term. But another good reason for tracking research communications is that funders increasingly expect you to.
Here are some examples of how funders around the world are strengthening and expanding their requirements around communications. They increasingly expect grant submissions to include detailed plans of the audiences you are trying to reach, your objectives for each audience, how you plan to reach them, what you are planning to say – and how effective your efforts are.
Communicating EU research and innovation guidance for project participants

Australian Engagement & Impact Assessment Handbook

Broader Impacts Guiding Principles and Questions for National Science Foundation Proposals

Ensure good management

Who will you / who did you engage?

Is the plan well organized?

Define your goals
and objectives

Why: What is / was the purpose of the engagement activity?

Is the audience being targeted clearly described?

Pick your audience

How will you / did you engage audiences?

Are the intended impacts of the activities described?

Choose your message

How well: how will you know if it has made a difference?

How will the audience be recruited [reached]?

Evaluate your efforts

Who will you / who did you engage?

How will the outcomes be measured?
How to measure research communication
One of the most basic things you can do is create trackable links for your communication. If you email people and you include a link to more information about your project, make sure that link is one that you can track – so you can see if any of the recipients actually clicks through to find out more. If you give a talk make sure you include a trackable link for "more information" in your slides or your handout. If you have business cards – put a trackable link on them or in your email signature - so you can see whether the people you connect with are engaging with your work. At a conference, for example, you can then count not only the number of meetings you had, or the number of people there, but actually how many people came and looked at more information for your work.
Activity / channel

How to measure

Email, blogs, social media

Include a trackable link to more information; count how many of the recipients / participants / readers click through

Online consultation

Talks / visits / debates / workshops

Count attendees. Create a simple handout with a trackable link to more information and count how many people click

Academic conferences

Find out the approximate number of delegates. Include trackable links in posters and slides. Take business cards with trackable links to information about your project.

Targeted briefings

Include trackable links to briefings for the appropriate audience when sending emails, giving talks or providing information in handouts / business cards

Project websites

Graphics, audio, video

Count views and (unique) visitors. Track at both project level but also the level of individual outputs hosted / linked to on the site to gauge which create most engagement
There are free URL tracking services online and we've also built a URL tracker into Kudos. It enables you to compare engagement across your efforts to communicate your research – whether that is online or offline, publicly or privately, with Kudos URL tracking you can see how many people click through to learn more about your research, which audiences / channels they come from, where in the world they are, and even which output formats are most of interest.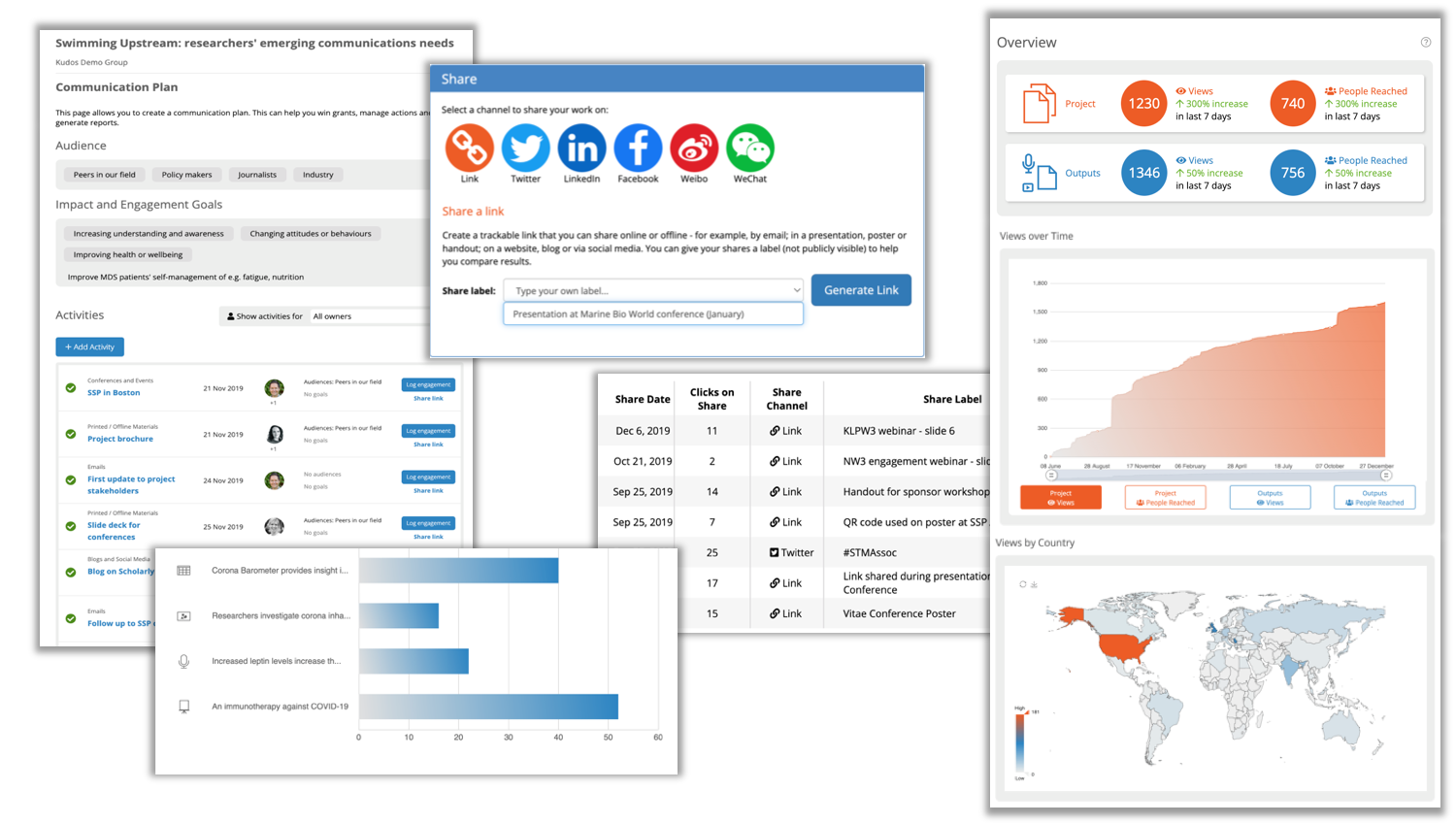 If you're working in a group you can also use our planning tools – these help you take the sort of structured, evidence-based approach that funders are looking for, and help you manage actions across your group, while also capturing all the data you are going to need for reporting. They help you plan the audiences you want to reach, the goals you want to achieve, and the activities and channels you will use – you can set up tasks for each other, track deadlines, and as well as automatically tracking clicks on your trackable links, you can also manually add any other evidence of impact or engagement here so you have a central record.
At the end of the process can quickly and easily see how many people you have reached, where they are, which of your outputs they looked at, which of your communication efforts brought them to your content – making it easy to report on, but also easy to see which types of outreach activities are most effectively helping you build impact potential with your target audiences.
Getting started with impact
The things you do to communicate and disseminate your research are the vital "missing link" between the research that you do and the impact you hope to achieve. At Kudos we have spent 10 years helping researchers develop impact through better research communication and dissemination. Get started now – you can register for free and then pick the tools and services you need.