---
First to launch is Novo Nordisk Showcase featuring somapacitan research
---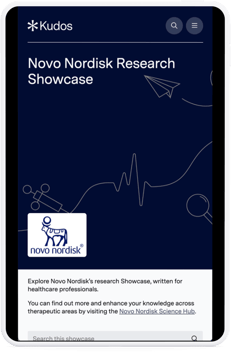 For immediate release – Oxford, UK and Zurich, Switzerland – September 19th, 2023 – Kudos, the platform for showcasing research, has today announced a new partnership with MedComms Experts, a multi-disciplinary medical communications agency. As part of their innovative Publication Impact Program, the agency has selected Kudos' platform to help disseminate scientific publications. Kudos will include effective short-form educational content in its global research Showcases. The first Kudos Showcase for a MedComms Experts client is now live – it features Stories that explain and contextualize research around Novo Nordisk's growth hormone treatment, somapacitan.
The Kudos platform is built around research 'Stories' that link together plain language summaries, publications, and related outputs such as infographics and videos. These 'layered publications' provide a transparent overview of critical research evidence, all together in one place. Layered publications and clinical trial 'Stories' are then collated into powerful, reader-oriented Showcases which are curated and tailored for different audiences, such as academics and practitioners, patients and payers in the healthcare industry, and policy makers. Content is also clustered into themes such as therapy areas and global challenges.
Kudos has over 470,000+ researcher-users from some of the most influential universities in the world, with a platform that also reaches broad audiences outside of academia. Dissemination via Kudos has been correlated to increased views, discussion and citations of scientific publications.
"In this era of information overload, the traditional approach of publishing journal manuscripts and simply expecting healthcare professionals to read them has become unrealistic. Our clients rely on us to innovate and ensure that their research is easily discoverable and crafted in an engaging way.," says Justine de Raimond, Account Manager for Novo Nordisk at MedComms Experts. "'By utilizing Kudos as an independent channel, we enhance healthcare professionals' access to relevant scientific content, providing them a convenient way to stay abreast of developments in their therapeutic area."
"There is a growing demand for better and broader understanding of research evidence," says Kudos CEO and Co-founder Melinda Kenneway. "Research articles and clinical trial summaries are increasingly available, but finding all the related evidence and outputs that relate to each article or trial is challenging for health professionals and the public alike. Kudos is solving that challenge by providing a place where all this disparate content can be linked together and made discoverable and relevant to different audience groups, with differing needs."
For more information about how Kudos supports discovery of corporate research articles and clinical trials, visit: https://info.growkudos.com/pharma
For an example of how we can help you showcase treatments and therapy areas, see our demo: https://www.growkudos.com/showcase/collections/diabetes
— ENDS —
Contact:
Charlie Rapple
charlie.a.rapple@growkudos.com

About Kudos
Kudos (growkudos.com) is the platform for showcasing research, helping more people find, understand and use it. Over 470,000 researchers use Kudos to bring science to life through the power of storytelling. Kudos is the only toolkit designed specifically to drive research communications, engagement and impact, helping researchers cross boundaries, achieve more influence, and gain more recognition.
About MedComms Experts
MedComms Experts partners with pharmaceutical companies to create effective communication strategies. MedComms Experts believes that to make the right decisions, you need the right information. Healthcare professionals are overwhelmed with information, and need short-form, bite-sized, fast-facts that can be quickly and easily digested and conveniently consumed in their own time, on-demand.