New tools for curating and promoting research collections to reach broader audiences
For immediate release – Oxford, UK – April 19th, 2023 – Kudos, the platform for showcasing research, has today announced a new Premium product suite to support research projects, groups, departments and institutions. Kudos premium options include state-of-the-art Showcases to better promote individuals, projects, groups, or institutions. Research can be Showcased before, during and after publication, using multimedia and other outputs to tell engaging research Stories and build broader audiences and impact potential. Premium options also include tools for communications planning and impact logging.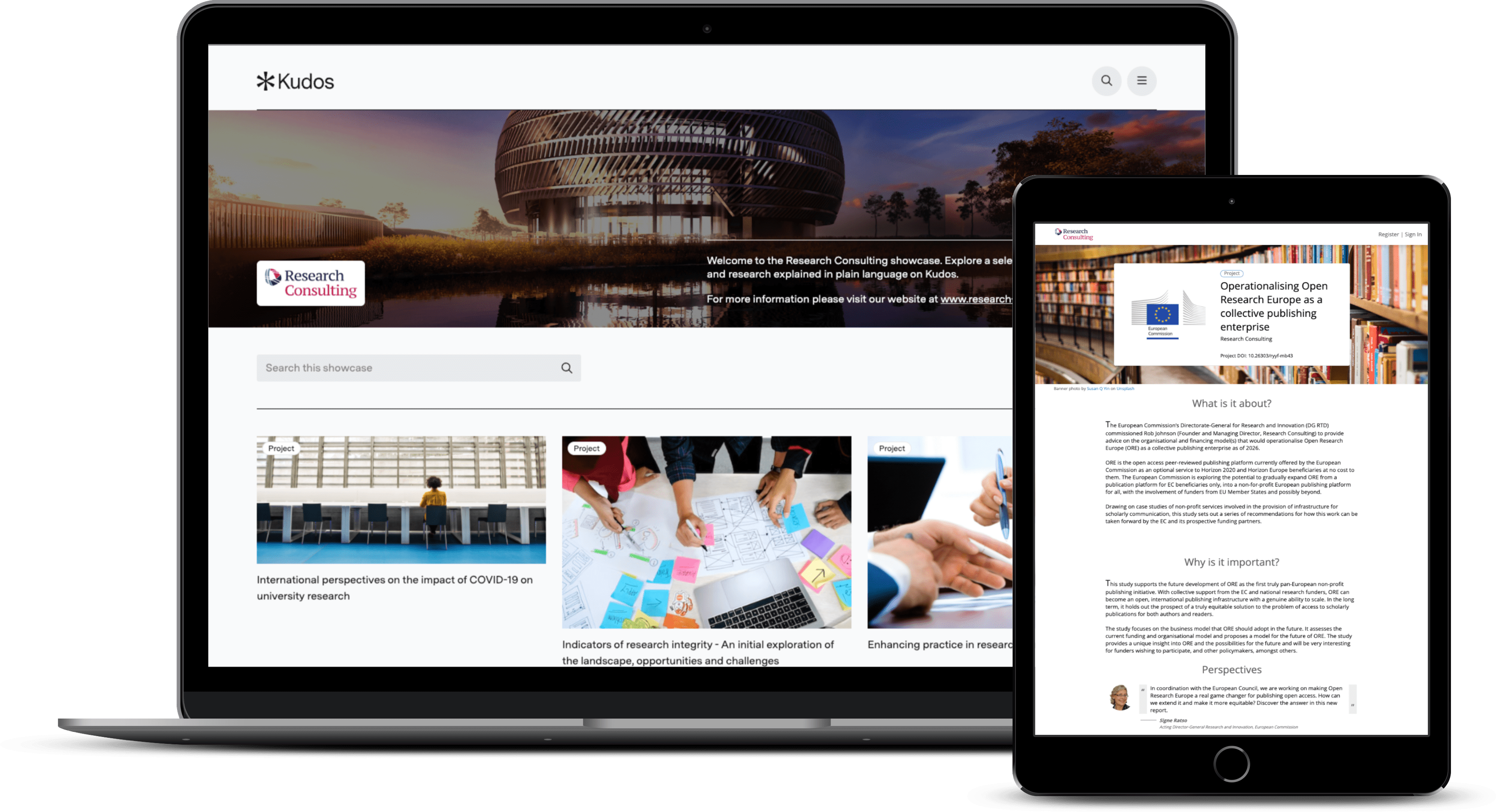 Examples of a Kudos group Showcase (left) and project Story page (right)
Kudos' new Premium personal Showcases provide researchers with a quick, easy, flexible and attractive way to present their publication record, with colourful templates and options to include featured images, alongside standard features such as institutional details and contact information. Premium membership also offers researchers additional features on their publication Story pages, such as the ability to upload their own images and infographics, and the opportunity to link to other assets such as video, data, code, press coverage and more. Premium members benefit from additional metrics including Altmetric data embedded into their Kudos reports, and the ability to track and compare sharing via different communications channels.
Premium members can upgrade to create Story pages for projects as well as publications – providing a quick and easy way to create a project web page that is simple to update as research progresses. Membership can be expanded to cover a research group and allow Showcasing across a range of projects, and collaborative management of research communications. Departments, faculties, schools and institutions can also upgrade to Premium packages that help maximize reach, readership and impact of research.
---
"The gap between those producing research and those that might use it remains huge – despite funders urging the research community to do more to increase the real-world impact of research," said Melinda Kenneway, CEO and co-founder of Kudos. "We're working to close that gap at Kudos – bringing Storytelling and Showcase services to the forefront of research communication, and transforming how quickly and effectively research is found, understood and used."
---

Visit the Kudos website to compare the different subscription options for individuals, projects, groups, departments, faculties and institutions.
— ENDS —
Contact:
Charlie Rapple
charlie.a.rapple@growkudos.com

About Kudos
Kudos (growkudos.com) is the platform for showcasing research, helping more people find, understand and use it. Over 450,000 researchers use Kudos to bring science to life through the power of storytelling. Kudos is the only toolkit designed specifically to drive research communications, engagement and impact, helping researchers cross boundaries, achieve more influence, and gain more recognition.