---
The Equality, Diversity and Inclusion Knowledge Cooperative is a community-wide effort to ensure public debate and decisions are better informed and aligned with the evidence.
---
For immediate release – Oxford, UK – October 11, 2022 – Kudos and Impact Science have announced the launch of the Equality, Diversity and Inclusion (EDI) Knowledge Cooperative. This cross-publisher initiative will help companies, educators, politicians, the media and the wider public understand the evidence around EDI issues, as well as increasing the visibility and reach of EDI-related publications within academia. The companies are inviting publisher sponsors to join the cooperative and nominated content that will be summarized and promoted to a broad range of audiences.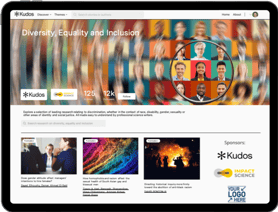 Kudos and Impact Science launched the Knowledge Cooperative model a year ago. Since then, over 25 publishers and partners have supported the creation and promotion of hundreds of plain language summaries of research on topics ranging from climate change and COVID to artificial intelligence. Beyond simply collating content, a major feature of the model is publicity campaigns across different channels, from PR to advertising to highly targeted search engine marketing, to ensure content reaches and engages a much broader audience than would otherwise be looking for research content. The existing cooperative Showcases have reached thousands of readers across academia, education, industry, government and healthcare.
"The scholarly publishing sector has a dual responsibility in relation to EDI," says Nikesh Gosalia, Senior Vice President, Global Academic & Publisher Relations at Impact Science's parent company, Cactus Communications (CACTUS). "Publishers and providers are working to tackle internal EDI challenges, but are also uniquely placed to help more people find, understand and act on relevant research."
"This initiative is an opportunity for the scholarly publishing sector to prove our allyship by taking more active, targeted steps to help improve the lives of those affected by issues of equality, diversity and inclusion," says Charlie Rapple, Chief Content Officer and co-founder of Kudos. "I'm really looking forward to applying this proven model to improve the visibility and application of research on these important topics."
Sponsors will identify content to be summarized and promoted via the cooperative, with subject matter potentially covering disability, gender, race, sexual orientation, physical appearance and religion. Plain language summaries, videos and infographics will be created by the professional research & impact communication team at Impact Science. A long-term media and advertising campaign will drive widespread visibility and readership.
To find out more about promoting your content or brand through the Equality, Diversity and Inclusion Knowledge Cooperative, please visit the website or contact Colin Caveney. If you would like to book a meeting with Colin at the Frankfurt Book Fair, you can do so here.
— ENDS —
Contact:
Charlie Rapple



charlie.a.rapple@growkudos.com

About Kudos
Kudos (growkudos.com) is the platform for showcasing research, helping more people find, understand and use it. Over 400,000 researchers use Kudos to bring science to life through the power of storytelling. Kudos is the only toolkit designed specifically to drive research communications, engagement and impact, helping researchers cross boundaries, achieve more influence, and gain more recognition.
About Impact Science
Impact Science is a part of Cactus Communications (CACTUS), a science communication and technology company. With over 18 years of experience in helping researchers all over the world overcome publication barriers, we have an in-depth understanding of the research landscape and what's needed to help research make an impact. Founded in 2019, Impact Science is CACTUS's research communication brand. We offer solutions for science dissemination and engagement with peers, public, and policymakers for wider research outreach. We work with publishers, academic societies, universities and research institutes, and life science organizations, distil and present their breakthroughs, and disseminate it across platforms. To find out more about Impact Science, visit www.impact.science/.