For immediate release – Oxford, UK – January 9th, 2020 – Kudos, the award-winning service for accelerating research impact through strategic communications management, has today announced the launch of its new Research Showcase. This public website (growkudos.com/showcase/) is the world's first platform to drive discovery of "research in progress", providing stakeholders – from funders, taxpayers and donors, to research participants and beneficiaries – with earlier insight into emerging research from leading researchers, groups and institutions around the world. From an academic perspective, the Showcase assists with objectives around media relations, public engagement and broader impacts. From a wider societal perspective, the Showcase helps maximize quality and relevance of research by facilitating earlier communication and engagement. Kudos Pro and the Showcase also enable discussion around research projects to be tracked and reported, through Kudos' unique allocation of DOIs to research projects, and its integration of Altmetric scores.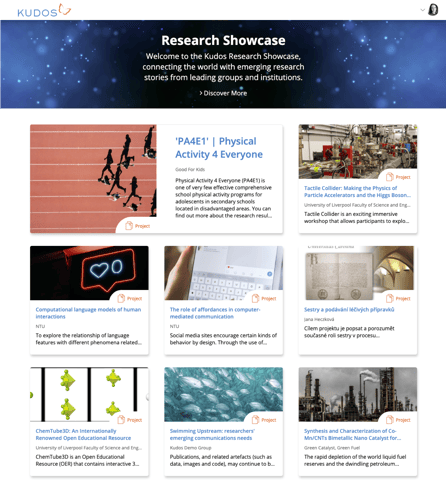 Following the launch, researchers who have created a public profile for their work using Kudos Pro can now opt to "publish" that page in the Kudos Research Showcase, from where it is promoted to a growing range of potential audiences. Making information about projects available in this structured way, from much earlier in the project lifecycle, is key to maximizing the impact potential of research by ensuring it is found and understood by broader audiences, particularly those outside of academia.
"Funders and institutions increasingly require that researchers take a more active approach to getting their work in front of audiences such as industry, policy makers, the media and the public. But this is difficult for researchers, who may not have the time or expertise to build up the necessary relationships or networks," comments David Sommer, Chief Product Officer at Kudos. "The Kudos Research Showcase solves that problem, by providing a central channel that researchers themselves can use to quickly and easily share 'key messages' with different target audiences."
"Meanwhile," continues Charlie Rapple, Chief Customer Officer at Kudos, "those target audiences have struggled with applying research results when they only find out about work 'after the fact', for example, through post-project articles. Having earlier insight into 'work in progress' provides a range of benefits including more opportunities for feedback, more relevant findings, and more time to plan better communication or application of results."
"The launch of the Kudos Research Showcase is a key component of the vision for Kudos Pro," concludes David Sommer. "The research sector's only dedicated communications management platform now enables you not only to plan, manage and measure communication and engagement activities – but also to showcase your work directly to broader audiences."
— ENDS —
Contact:
Charlie Rapple
charlie.a.rapple@growkudos.com
+44 1865 872527
About Kudos
Over 350,000 researchers have signed up to use Kudos' services for accelerating and broadening research impact. The company's toolkits help to showcase research to broader audiences, and provides researchers, research organizations and publishers with guidance and insight around the channels and activities that are most effective for reaching and engaging target audiences. To find out more about Kudos, visit www.growkudos.com. For a free trial or demo of Kudos Pro, visit https://info.growkudos.com/kudos-pro.