This week, our blog posts are focusing on answering some of the questions that have come up during our recent webinars. We started with questions about tracking the impact of different types of research, and about how you can create impact in specific fields, or when you don't have much budget. Then we looked at how you can make your article more discoverable in search engines, before answering questions about promoting older publications and reaching your target audience. Today, our co-founder Charlie Rapple and our Senior Digital Marketing Manager Josh Mills answer questions from our webinar about using social media for research communication.
Which is the best social media platform to share my research?
This varies in terms of the audiences you are trying to reach, where in the world they are, which platforms they are using, and what kinds of posts you are capable of creating – will you mostly want to post text? Or will you have images? Can you create videos?
In my experience, most researchers want to focus more on text-oriented posts rather than image- or video-centric posts. So I tend to recommend starting with Facebook, LinkedIn or Twitter, as they are the easiest to get going with, and are commonly used by researchers to share their work – so there are some ready-made communities you can tap into. It is also worth checking Facebook, Linkedin and Reddit to see if there are active groups relevant to your specific niche and becoming an active member of these by commenting on posts and engaging with the community. If you would like to share your research with a group, it is sometimes a good idea to message the administrator of the group in advance to make sure it is relevant to the group and self-promotion is okay - though this is not always necessary - occasionally the administrator may write a post on your behalf sharing your work.
I put together some information about some of the most widely used platforms, below. This may help with your decision. Another approach is to look up some of the best known figures in your field and see which platforms they are using. Where they lead, others will likely have followed.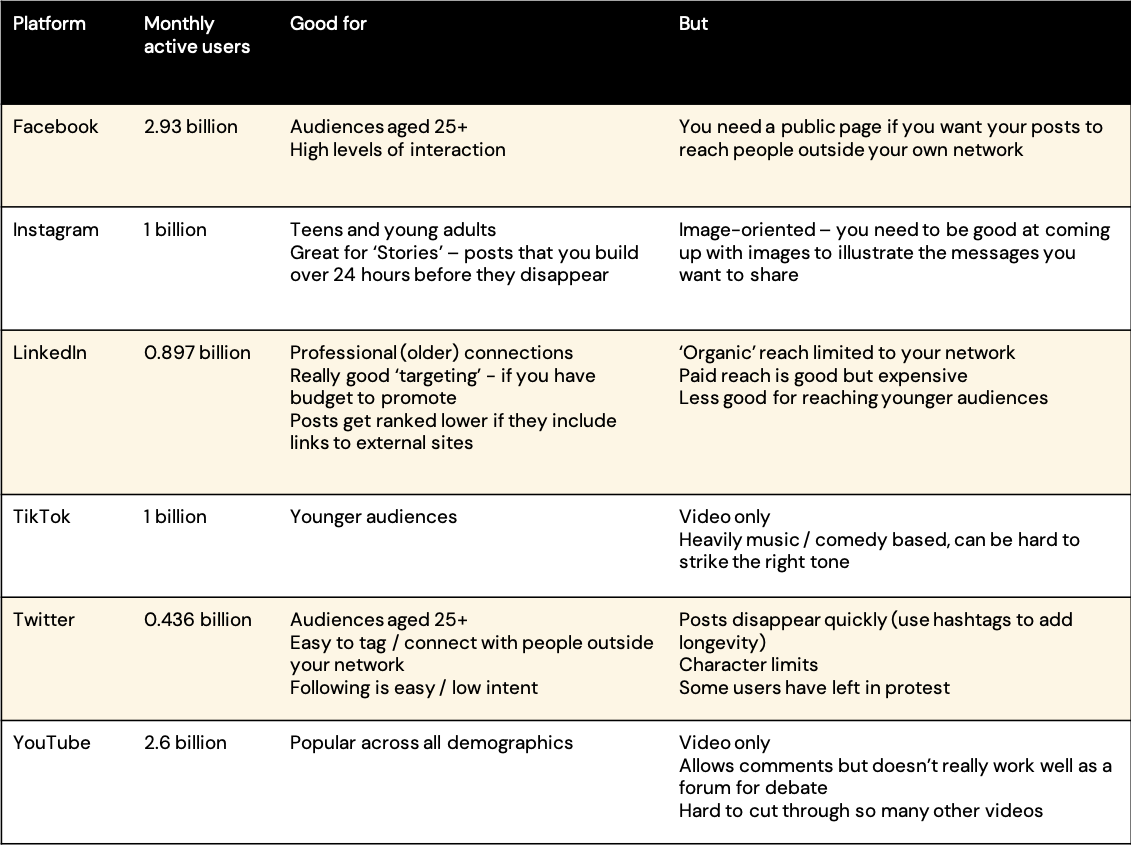 Why haven't you mentioned Mastodon?
Twitter changed ownership earlier this year and the new owner, Elon Musk, changed some of its policies about what kinds of opinions could be posted on the platform. Many people protested by leaving Twitter, and many started to use a service called Mastodon instead. At its peak, Mastodon had about 2.5 million active users per month. Note that is millions, whereas the figures in my table above are billions – so Mastodon is a lot smaller than the others we've looked at. The latest figures show Mastodon's monthly active users figure is about 1.4 million. So it has a much smaller 'reach' than other sites. The other reason I haven't mentioned Mastodon is that it is harder to get to grips with. Its communities are fragmented – you don't sign up to an overall platform, but to a specific server / topic. The lower user numbers mean you put in a lot of effort to get started, and don't get such good 'results' in terms of connecting with people and having them engage with your research. From what I've seen, most people that left Twitter for Mastodon have given up and returned to Twitter.
Should I use my personal account or create a separate one for research communication?
If you have already built up a bit of network on your personal account, it can be a good idea to use that account rather than try to start over with one specifically for research communication. People don't mind a bit of a mix of the personal and the professional; indeed, it can help to extend your network and strengthen your connections with people.
But: if you decide to use a personal account for professional purposes, you should keep all your postings "safe for work" whether they are about personal or professional topics. Using your personal account for professional purposes will mean you start to get followers from your professional sphere, and you will want to be careful to present a professional persona to them, whatever topic you are posting about. If you want to swear a lot, post flirty pictures, share dubious jokes, or anything like that, then keep your personal account separate and set up a new one for your professional communications.
How do I deal with trolls?
Block them, report them and most importantly, don't respond to them. I could write at length about this, but really that's all you need to know. If you feel annoyed, offended or insulted by someone's response to your posting, don't reply, don't try to engage in logical debate, don't try to defend yourself or change their mind. This will only make things worse.
How should I decide what hashtags to use?
Hashtags are useful as they allow you to attach your post to a string of other posts covering a similar topic. However, be aware that they are not as important as they once were as these days simply including the correct keywords in your post will have the same effect as many hashtags. If you mention "science communication" your post will be just as visible to people browsing for posts on that topic as those of people who have included "#ScienceCommunication" in their post.
However, it is still good practice to use hashtags to ensure your post is being viewed by the broadest relevant audience and to ensure you are appearing for all keywords your post may be relevant for. You can look for hashtags on each social platform and see how much engagement the included posts have, you can see which hashtags colleagues working in the same area as you are using or you can use a tool like Hashtagify.me to check the popularity of different hashtags and generate suggestions.
If you use hashtags, try to capitalize the first letter of each word you've included ("#DevelopmentalPsychology rather than #developmentalpsychology"). This makes it more likely that automated screen readers will read the hashtag correctly, and also makes them easier to read for people with dyslexia.
Are there any free tools for tracking social media metrics?
Facebook, Linkedin and Twitter give you analytics (statistics) as part of their free services. These can give you valuable insights into impressions, clicks, followers, engagements (i.e. reactions to your posts), comments. Using these along with Kudos' link trackers to see how many views of your research occur due to social activity should provide enough data in most cases. It is only really professional communication and marketing teams that will require extra social media management and monitoring tools such as Hootsuite, BuzzSumo and Khoros – the cost of useful features is usually quite significant.
What are impressions and what is the value of them?
Impressions are how many times your post is viewed in total - it goes hand in hand with "reach" that shows how many individuals have viewed your post. This is useful to know if your primary goal is raising awareness – the more times your post is shown, the more people will have seen your name, your message, or whatever you are trying to raise awareness of. More impressions should in theory also lead to more engagement – the more times your post is shown, the more likelihood there is of someone clicking on it to look at your showcase, story, publication or whatever you have linked to. (Don't forget to track those links with Kudos so you can see how many of your impressions have 'converted' to people actually engaging with your research).
At Kudos we have spent 10 years helping researchers increase readership, citations and impact through better research communication and dissemination. Get started now – you can register for free and then pick the tools and services you need.