The Kudos team has recently moved into its first office! Today, we took a critical step in moving beyond the white-wall look: the posters arrived. We've carefully selected travel posters to reflect the many corners of the world from which our lovely publishing partners hail: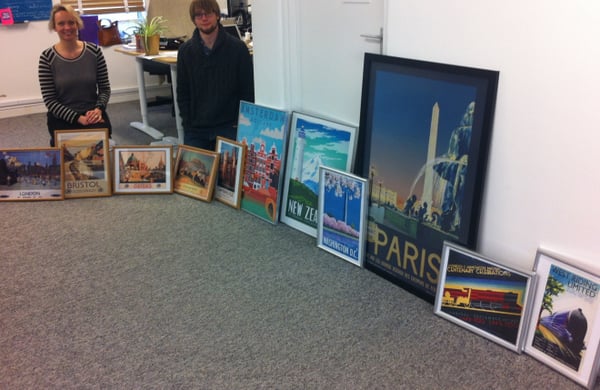 Left to right, that's Ann Lawson and Greg Joy saying "thanks for working with us!" to:
London - Bone & Joint, The IET, Informa Healthcare and the Royal Society
Bristol - Bioscientifica, Institute of Physics and Policy Press
Oxford - Wiley, Taylor & Francis and Cogent
Edinburgh .. University Press
Cambridge ..University Press, eLife and the Royal Society of Chemistry
Amsterdam - John Benjamins Publishing Company
New Zealand - Dove Medical Press
Washington DC - the American Association for the Advancement of Science, American Society of Microbiology, American Society of Nutrition, Health Affairs
Paris - OECD
Liverpool and Manchester .. University Presses, and the International Union of Crystallography
West Ridings - a catch-all for our Yorkshire contingent of Emerald, Equinox, the European Respiratory Society and Maney!
Yes, we know we still need posters for New York, Qatar, Stuttgart, Toronto - thank you to Berghahn, QScience, Thieme and Canadian Science Publishing too!
We've still got plenty more wall space to fill, so if you want to be on our wall of fame, enquire about our publisher services now :-D