At Kudos, we love hearing from researchers who have found the toolkit useful in helping their publications stand out.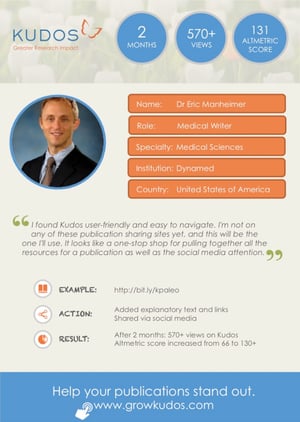 We have started to put together case studies for some of our most influential users.
Our first case study features author Eric Manheimer, who has achieved great things by utilizing the Kudos toolkit fully, and explaining his publications in great detail.
The metrics speak for themselves in terms of how much you can increase the impact of your publications, by giving just ten minutes of your time.
In addition to this, Eric has been able to centrally manage all of his publications' success and find out which channels are proving most successful for ensuring his work is read.
Get in touch and tell us your story!
We'd love to hear how Kudos has helped you explain, share and measure your work. Please get in touch if you would like to feature in a Kudos case study.