It has been another busy year for Kudos - between the launch of our new registration page and publication page, the Shareable PDF pilot, developing a research impact quiz, having our own research study published and being named as one of Outsell's companies to watch - 2017 has been a highly successful year for Kudos!
We now have over 80 publishers partnering with us to build usage and strengthen their relationships and support for authors.
Meanwhile, we now have over 190,000 researchers signed up to Kudos - with author dashboard usage quadrupling, and sharing among our users doubling in 2017 - thanks to key website developments, greater user support, initiatives such as 'Test your research impact muscles', more targeted / triggered based email campaigns to support and guide authors when increasing the reach and impact of their work, and the continued support from our publisher and institutional partners.
Key highlights of 2017:
Hitting over 190,000 registered users on Kudos - and doubling the amount of sharing amongst these users.
The launch of our Shareable PDF product.
Kudos was voted into top 3 emerging companies in the global information industry at Outsell Signature event.
A research study conducted by Nanyang Technological University, which revealed that using Kudos leads to 23% higher growth in full-text downloads was published by PLOS.
The launch of our new registration and publication pages.
The creation of our of research impact quiz 'Test your research impact muscles' - over 10,000 researchers have taken part and discovered their research impact score.
A recent researcher survey conducted by Kudos discovered that 88% of registered users find Kudos easy to use - with 81% stating Kudos helps them achieve their (research impact) goals.
We partnered with Crossref to provide researchers with citation count data on Kudos.
New additions to the Kudos team! This year we welcomed: Claire Kemp (Senior Account Manager), Teresa Carvill (Accounts Officer), Peter Shelley (Head of Business Development), Tom Brice (Software Engineer), Kevin Etienne (Senior Software Engineer), Pedro Brochado (Software Engineer), Henry Blyth (Software Engineer).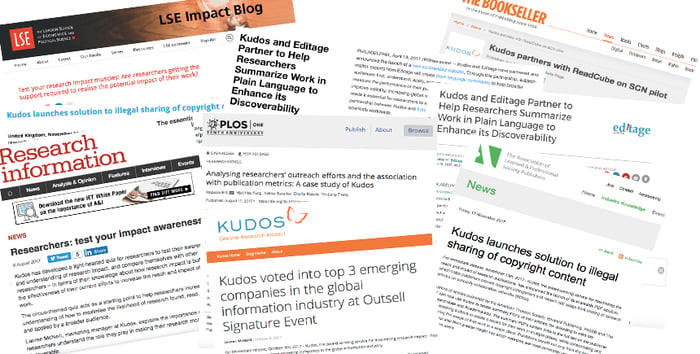 A big thank you to all that have contributed to another successful year - here's to an even more fruitful 2018!
Happy New Year from the Kudos team!
[wpvideo a0iFMRny]