New fields in AllenTrak, Editorial Manager, EJPress, MPSTrak, PeerTrack and ScholarOne simplify research dissemination for authors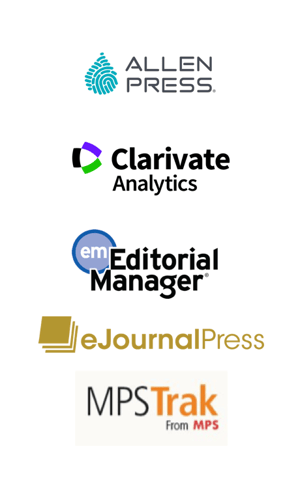 For immediate release, March 28th, 2018 –– Kudos (www.growkudos.com), the award-winning platform for managing research dissemination, is proud to announce the expansion of its service enabling publishers to incorporate a Kudos field into their manuscript submission system. Integrations with Allen Press' AllenTrack and Peer Track, Aries' Editorial Manager, Clarivate Analytics' ScholarOne, EJPress and MPSTrak mean that Kudos' publisher partners can now collect plain language summaries during manuscript submission or review, enabling authors to begin the process of explaining and sharing their research prior to publication. During a trial period*, 47% of authors chose to add a plain language summary at the point of submission.
Integrations have been implemented for publishers and societies including the American Thoracic Society, the American Psychiatric Association Publishing, the Association for Computing Machinery, Cambridge University Press, De Gruyter, Emerald Publishing, the European Respiratory Society, Future Science Group, ICE Publishing, the the Journal of Orthopaedic and Sports Physical Therapy (JOSPT), Liverpool University Press, Policy Press, SAGE Publishing, Wiley.
"These integrations are important for two key reasons," says David Sommer, Product Director and co-founder of Kudos. "Firstly, the sooner researchers start disseminating their work, the greater its impact potential; and secondly, embedding Kudos in existing workflows minimizes the effort required for authors to take this important step for their work."
"Bringing Kudos further upstream in the research workflow has always been a core part of our plans," adds Melinda Kenneway, Executive Director and co-founder of Kudos. "We continue to pursue this goal in a range of ways; for example, later this year we'll be broadening the range of research objects for which researchers can use Kudos to manage dissemination. This means researchers will be able to track and evidence the effectiveness of dissemination, and increase the impact potential of their work, long before the point where they are publishing."
Kudos integration is now possible for any manuscript submission or review system for which either the provider or the publisher is able to: add a "Kudos" field; export its contents in either JSON or Excel format; and transfer this to Kudos via either API or email. For further information about integrating Kudos with your manuscript submission system, please contact Claire Kemp (current Kudos clients), Peter Shelley (publishers who are not yet Kudos clients) or David Sommer (system providers).
* Publishers including Emerald, Future Science and Wiley participated in a six month trial whereby a Kudos field was added to the ScholarOne submission workflow for a subset of journals.
-- ENDS --
Contact:
Charlie Rapple • charlie.a.rapple@growkudos.com • +44 1865 872527
About Kudos
Over 200,000 researchers have signed up to use Kudos' free platform for managing communications around their publications – across multiple publishers and tools. They explain work in plain language and generate trackable links for sharing via email, web and social networks; these enable communications to be directly mapped against views, downloads, altmetrics and citations. Kudos thereby provides researchers, and their publishers and institutions, with a rich understanding of which channels and activities are most effective for broadening reach and impact. Kudos has over 100 publisher, institutional, society and corporate customers around the world. Recent analysis of Kudos data indicates that growth in full text downloads on the publisher site is 23% higher when the Kudos toolkit is used. Kudos won the 2015 ALPSP Award for Innovation in Publishing and has been named in Outsell's "Ten to Watch" for three consecutive years; Outsell recently assigned a "positive" rating to Kudos' new "shareable PDF, describing it as a "a pragmatic solution to a key industry issue".
About Allen Press (www.allenpress.com)
Allen Press, Inc., uses top-notch printing, content publishing, and precision marketing services to help organizations make their stories come alive.
About Aries Systems (www.ariessys.com)
Aries Systems transforms the way scholarly publishers bring high-value content to the world. The company's innovative and forward-looking workflow solutions manage the complexities of modern print and electronic publishing—from submission, to editorial management and peer review, to production tracking and publishing channel distribution. As the publishing environment evolves, Aries Systems is committed to delivering solutions that help publishers and scholars enhance the discovery and dissemination of human knowledge. Publish faster, publish smarter, with Aries Systems.
About EJPress (www.ejournalpress.com)
EJPress peer review software is a fully-configurable system that facilitates the peer review process from manuscript submission through acceptance. 5,000+ configuration flags allow eJournalPress to customize the workflow for publications of all sizes with intricate workflows, shared databases, exports to vendors, and manuscript transfer between a single organization's journals.
About MPS (www.adi-mps.com/)
MPS Limited is a leading provider of platforms and services for content development, production, and distribution. Over the 46 years of its dominant presence, MPS has established itself as a global leader in its space with partnerships with the world's leading publishers and platforms. MPS Limited offers a diverse geographic spread with facilities in Dehradun, Noida, Gurgaon, Bengaluru, and Chennai in India; and offices in Orlando, Portland, Durham, and Effingham in the US. MPS North America is a wholly owned subsidiary of MPS Limited and provides full-service editorial, design, research and permissions, and production services to the educational publishing market with expertise in developing turnkey solutions for print and online products.
About ScholarOne (clarivate.com/products/scholarone/)
ScholarOne provides comprehensive workflow management systems for scholarly journals, books, and conferences. The ScholarOne web-based applications enable publishers and societies to manage the submission, peer review, production, and publication process more efficiently and access intelligent information to help make strategic decisions. ScholarOne is a product of Clarivate Analytics, the global leader in providing trusted insights and analytics to accelerate the pace of innovation. Building on a heritage going back more than a century and a half, we have built some of the most trusted brands across the innovation lifecycle, including Web of Science, Cortellis, Derwent, CompuMark, MarkMonitor and Techstreet. Today, Clarivate Analytics is a new and independent company on a bold entrepreneurial mission to help our clients radically reduce the time from new ideas to life-changing innovations. For more information, please visit clarivate.com.