Templated overviews will benefit education, policy, media and business communities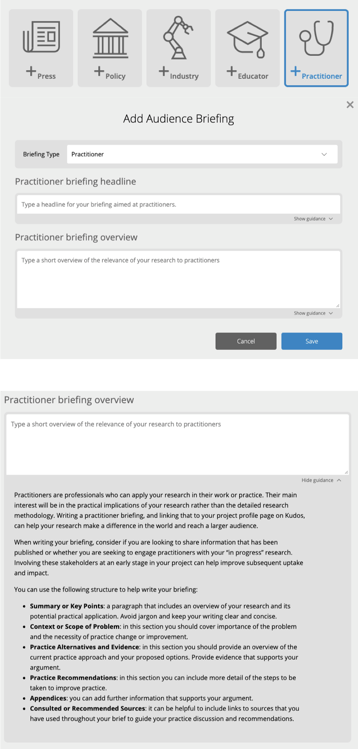 For immediate release – Oxford, UK – February 25th, 2020 – Kudos, the award-winning service for accelerating research impact through strategic communications management, has today announced the launch of targeted Research Briefings, to assist researchers in engaging with audiences including the media, practitioners, educators, industry and policy makers.
This new functionality is part of the latest release of Kudos Pro, the ground-breaking toolkit for maximizing engagement and impact of research. Kudos Pro users can now create structured briefings for a range of different audiences. Detailed guidance and examples are included, customized to each audience type. Briefings can be published and shared throughout the lifecycle of a project or programme, and can be distributed both by researchers and their colleagues, and via the Kudos Research Showcase.
"Almost every university and research group we've spoken with is seeking to develop their
profile and connections with these specialist audiences," commented David Sommer, Chief Product Officer at Kudos. "There are many well-developed mechanisms for peer-to-peer communication in research, but reaching and attracting the attention of non-academic audiences is much harder. Support for this specialist outreach is often reserved for only the very top tier of projects or publications, but with the simple tools and guidance we now offer, it's possible for many more researchers to communicate their work directly to these critical stakeholders."
In addition to adding targeted briefings to the newly launched Research Showcase – the new Kudos platform for presenting "in-progress research" – Kudos will be developing syndication partnerships to further extend the reach of this tailored content to optimize readership among these specialist communities. Further features in development will enable researchers to develop, track and report on interest and engagement across and within these specialist groups.
— ENDS —
Contact:
Charlie Rapple
charlie.a.rapple@growkudos.com
+44 1865 872527
About Kudos
Over 350,000 researchers have signed up to use Kudos' services for accelerating and broadening research impact. The company's toolkits help to showcase research to broader audiences, and provides researchers, research organizations and publishers with guidance and insight around the channels and activities that are most effective for reaching and engaging target audiences. To find out more about Kudos, visit www.growkudos.com