You've written the Story of your research. We're building your audience.
Want to spread the word in your own networks? Here's our suggestions for what you can do:
Put a link in your email signature

Think about how many emails you send each day. Now imagine that each one of those is alerting people to your latest research paper or project. You'd be surprised how many people will click through - don't forget that Kudos helps you generate trackable links so you can see whether this is an effective way of communicating.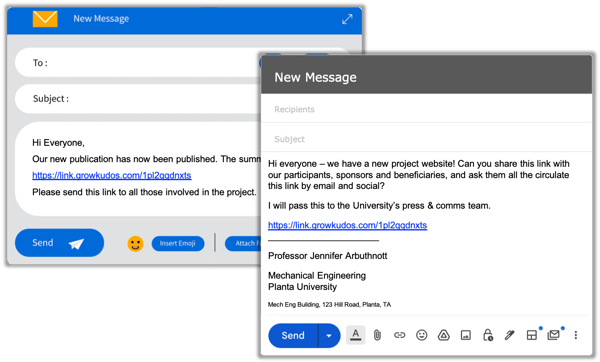 Hopefully they should already know that the paper has been published but they may not know that you have created a beautiful summary page for it on Kudos, so don't forget to tell them and ask them to share with others. If you are a group subscriber to Kudos Premium, you will be making project pages - that you can share with project stakeholders throughout the project; you don't have to wait until you have publications. As ever, don't forget to use trackable links so you can track and compare.
Send an email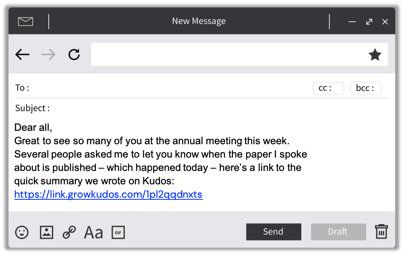 Sometimes we feel awkward promoting ourselves and our research. No-one wants to be 'that' person who is always talking about themselves. But there are situations where people really do welcome a quick notification that a paper they've been waiting for is live, or that you have added a new plain language summary. Statistics in Kudos show people getting hundreds of views of their research summaries from links they've sent in emails.
Put a link on your business card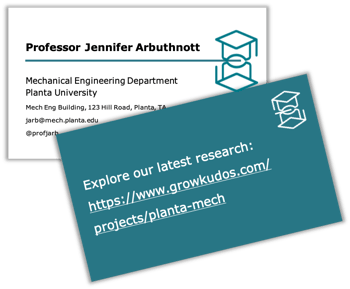 Do you still have business cards? Plenty of people do and plenty of people still exchange them at conferences and meetings. If you have control over what is on your business cards, don't forget to put a link to your latest publication summary or project web page. Pro tip: even if you don't have printed business cards, at many conferences you have a virtual business card that you can configure yourself through the project app - the same goes in this situation - don't forget to put a link to your research summaries!
Add to your professional profiles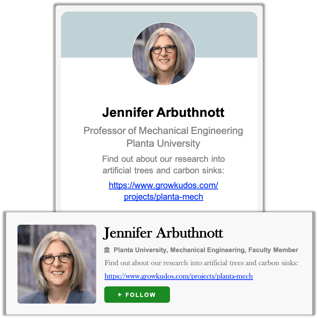 Almost every academic I've ever met is using a platform like Researchgate or Academia.edu. Most of these platforms give you a free text biography space. You can include links here, so don't forget to update it regularly with a link to latest publication summary.
Post on social media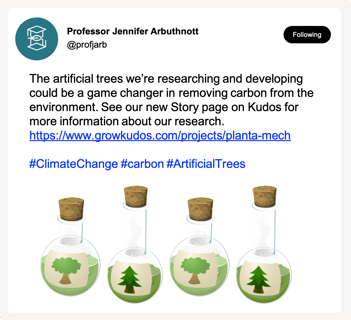 If you do already have accounts set up in social media, use them to let people know where they can find out more about your research. You don't necessarily need to post a lot, or to have a big number of followers - make sure you are using appropriate hashtags (so that people searching for those topics will find your post even if they don't follow you) and @ mentioning relevant organizations such as your institution, funder, project partners and so on - this makes it easy for them to reshare your post to their own networks, which will really help to increase the numbers of views.
At Kudos we have spent 10 years helping researchers increase readership, citations and impact through better research communication and dissemination. Get started now – you can register for free and then pick the tools and services you need.