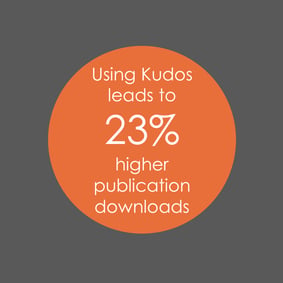 For immediate release, June 24th, 2016 — Kudos (www.growkudos.com), the award-winning service for maximizing the reach and impact of research publications, has announced preliminary results of a study to evaluate the effectiveness of its service. The Altmetrics Research Team at the Centre for HEalthy and Sustainable CitieS (CHESS), Wee Kim Wee School of Communication and Information, Nanyang Technological University (NTU), Singapore (www.altmetrics.ntuchess.com) analyzed data from the first two years' usage of Kudos and determined that researchers' use of the Kudos toolkit leads to 23% higher growth in downloads of the full text on the publisher site for those publications.
Kudos provides a platform for researchers to explain work in plain language, and generate trackable links for sharing work, which enables them to map the effect of sharing efforts directly onto publication metrics including downloads, citations and altmetrics. By centralizing how such sharing is managed, Kudos can provide researchers – and the publishers, institutions, societies and funders with which they are affiliated – with valuable insight into the effectiveness of different media and networks. The current study has also shown, for example, that while publications are most likely to be shared via Facebook, it is links shared via LinkedIn that are most likely to be clicked.
"The results of the NTU's study are important not only because they demonstrate the value of using Kudos, but also because they help to build the wider case for undertaking outreach around research," says Charlie Rapple, Sales & Marketing Director and Co-Founder of Kudos. "Early career researchers know that a proactive approach is necessary to grow their reputation in a competitive environment, but they often struggle to make time for communications efforts – this kind of data can help them to justify that time, both to themselves, and to their supervisors."
The study will be published in full later this year*. For more information, see today's posting on the LSE Impact Blog, and this companion piece on our own blog. To try Kudos for your own work, sign up at www.growkudos.com. If you would like to know more about our services for publishers, societies, institutions and funders, please contact us.
The study has now been published:
Erdt M, Aung HH, Aw AS, Rapple C, Theng Y-L (2017) Analysing researchers' outreach efforts and the association with publication metrics: A case study of Kudos. PLoS ONE12(8): e0183217. https://doi.org/10.1371/journal.pone.0183217
-- ENDS --
Contact:
Charlie Rapple
charlie.a.rapple@growkudos.com
+44 1865 872527
About Kudos
Over 100,000 researchers have signed up to use Kudos' free platform for managing communications around their publications – across multiple publishers and tools. They explain work in plain language and generate trackable links for sharing via email, web and social networks; these enable communications to be directly mapped against views, downloads, altmetrics and citations. Kudos thereby provides researchers, and their publishers and institutions, with a rich understanding of which channels and activities are most effective for broadening reach and impact. Kudos has 65 publisher customers around the world, including Wiley, Taylor & Francis, Cambridge University Press, the Royal Society and the American Academy for the Advancement of Science. Institutional customers include the University of Huddersfield, Carnegie Mellon University and ETH Zürich. Recent analysis of Kudos data indicates that full text downloads on the publisher site are 23% higher when the Kudos toolkit is used. Kudos was named Best New End User Product at the 2014 Charleston Advisor Readers' Choice Awards and won the 2015 ALPSP Award for Innovation in Publishing. It has been named in Outsell's "Ten to Watch" for two consecutive years.