On Wednesday 22nd February, the IET Good Researcher's Guide to Publishing will be taking place at Savoy Place, London.
This free, one-day seminar is a must attend event for early stage researchers who specialise in Engineering, Technology and Science and want to get published.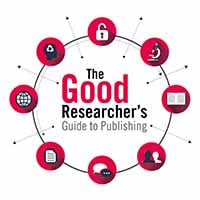 During the seminar you will hear from experienced authors, early career researchers and industry experts, all providing valuable insights and knowledge to help support you.
Kudos Co-founder Charlie Rapple will be attending and speaking at the event alongside our Account Manager, Laura Simonite.
Charlie and Laura's talk 'Academic reputation: how to create it and how to sustain it' will start at 2.30pm.
This session will explore the importance of academic reputation, how it is created, and what you can do to enhance yours. We'll also look at the support the Kudos toolkit can provide in terms of explaining your research to a wider audience, and measuring the impact of your activities related to spreading the word about your publications using real-life examples and case studies.
You can register to attend the seminar for free here.
If you'd like to arrange a chat with Charlie or Laura, don't hesitate to get in touch!