For immediate release, 19th April 2017 -- Kudos, the award-winning service for maximizing the reach and impact of research publications, and Editage, the trusted scientific communications advisor to researchers worldwide, have partnered and announced the launch of a new co-branded website. Through this partnership, subject-matter experts from Editage will create plain language summaries to help broader audiences find, understand, apply and cite research. In addition to sharing these summaries, researchers will be able to measure the performance of their publications through Kudos' tools, and track the effect of their efforts to improve visibility.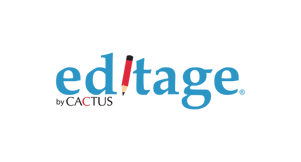 Increasing global research output and popularity of digital media have made it essential for researchers to actively enhance the discoverability of their research. This partnership between Kudos and Editage aims to address the post-publication needs of scientists worldwide and make their busy lives a little simpler.
Charlie Rapple, co-founder of Kudos, explained the background to the partnership: "Our tools are free for researchers, and quick and easy to use, but we know that some researchers still don't feel confident about explaining work in plain language. We are very pleased to partner with the experts at Editage, to give researchers a new option for writing plain language summaries." Explaining Editage's interest in this partnership Nikesh Gosalia, Director, Academic and Publisher Relations at Editage, said, "We are trusted advisors to researchers worldwide in their pre-publication journey. Our proximity to authors endows us with the privilege to understand and address their needs. After being published, every researcher wants their research to reach as many people as possible. Our plain-language summary service makes research understandable to a broad audience. We are excited to partner with Kudos. With the help of their tools, authors can promote their research and increase the visibility of their publications."
Kudos was founded in 2013, in part to address the growing demand for plain language summaries to help mobilize knowledge and help ensure the broadest possible impact for research, both within and beyond academia. This new service available at http://editage.com/kudos, will assist scientists and academics with explaining and sharing their work with the wider world, and help them better understand its impact.
-- ENDS --
Contact:
Charlie Rapple
charlie.a.rapple@growkudos.com
+44 1865 872527
Hridey Manghwani
Manager, Corporate Communications, Editage/Cactus Communications
+1(877)334-8243
PR@cactusglobal.com
About Kudos
Over 125,000 researchers have signed up to use Kudos' free platform, which provides a rich understanding of which channels and activities are most effective for broadening reach and impact. Kudos has over 100 organizational customers around the world, including Wiley, Taylor & Francis, the Association for Computing Machinery, the London School of Economics and Political Science and ETH Zürich. Recent analysis of Kudos data indicates that full text downloads on the publisher site are 23% higher when the Kudos toolkit is used. Kudos won the 2015 ALPSP Award for Innovation in Publishing.
About Editage
Founded in 2002, Editage (a division of Cactus Communications) is a fully integrated, global scholarly communications company with offices in Japan, South Korea, India, China, and the United States. Employing a global workforce of over 600, Editage has served 193,930 authors and has edited 741,340 papers across 1,200 disciplines to date. Editage aims to help scholars break through the confines of geography and language, bridge the gap between authors and peer-reviewed journals, and accelerate the process of publishing high-quality research. Apart from working with individual researchers, Editage partners with publishers, journals, academic societies, and pharmaceutical companies worldwide to assist them in creating compelling, high-quality scientific publications. Editage is also dedicated to author education through its comprehensive author resources site Editage Insights. Please visit www.editage.com to learn more.