| | | |
| --- | --- | --- |
| | | |
---
Matthew McLaughlin
Knowledge Translation Champion
University of Newcastle
Hunter New England Population Health
Australia

Verdict:
"We love how easy to use Kudos Pro is."
---
THE PROJECT
Physical Activity 4 Everyone (PA4E1) is a public health program for disadvantaged secondary schools. It aims to increase the physical activity levels of adolescents by improving the capacity of schools to implement best practice physical activity practices. It is part of the "Good for Kids, Good for Life" initiative, which is a collaboration between the New South Wales Government and the University of Newcastle, led by Hunter New England Population Health.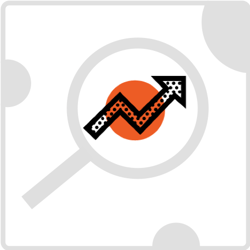 THE GOAL
"Kudos Pro is a foundational part of our Knowledge Translation Strategy. The strategy addresses the gap between the research evidence, and practice. We're using Kudos Pro to help us evaluate different communication efforts, to our different stakeholders, to ensure we are using our time and resources effectively, and thus maximizing the reach and impact of our work."
FAVOURITE FEATURES
Project profile pages
Target audience briefings
Links to related outputs
Collaboration across multiple team members and organizations
Communications planning and project management
Tracking and measurement of communications
Analysis and reporting of results
THE VERDICT
"We love how easy to use Kudos Pro is. It's been really exciting to see the results of our efforts, and extremely useful to be able to compare very different types of communication on a like-for-like basis. Having all the data we need in one place will make it so easy for us to submit an export with future grant applications to show what we are capable of when it comes to knowledge translation."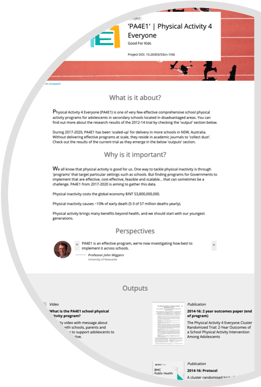 PUBLICIZING PROJECTS
"We have used Kudos Pro to create public profile pages for several of our projects. Our PA4E1 page was quick and easy to put together, and is an important 'plain language' complement to the main project website which has to convey a lot of complex information to a range of very different stakeholders. With Kudos Pro, we can be selective about the outputs we promote to each audience, and use the 'target audience' briefings to focus on the key points we want each group to take on board. Our projects have gained extra visibility from being included in the Kudos Research Showcase."
PLANNING AND TRACKING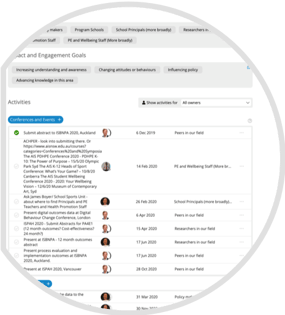 "We love the Kudos Pro planning tool! It has enabled us to manage our communications
much more collaboratively and efficiently. We do such a wide range of activities – Kudos
Pro helps us make sure that each one has an assigned owner and clear deadlines. It has
helped us maintain momentum, keep track of each other's progress, and ensure we have a good spread of activity types with enough planned for each audience. The tracking process is really easy to use, and it's great to be able to use a consistent system and metric across the range of things we are doing. We love that once we've set up our trackable link, it gets to work in the background and we just need to check results from time to time. It's also great to have space to add more qualitative notes or evidence of impact as and when we need to."
THE RESULTS
"We've been impressed by both the level of engagement we've achieved with Kudos Pro, and the ease with which we're able to monitor and report on that. Kudos Pro brings a range of metrics together in one system, and makes it easy for us to see which things we're doing are actually working."