For immediate release, November 1st, 2016 –– Kudos (www.growkudos.com), the award-winning service for maximizing the reach and impact of research publications, has announced new appointments to its Board of Directors and the successful close of a second funding round.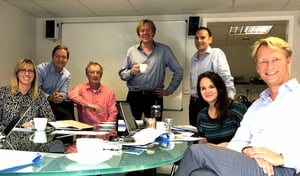 From 1st January 2017, Jon Conibear is appointed non-executive Chairman. Jon is an experienced publisher with a career that has included executive-level roles with Oxford University Press, Blackwell Science, Informa and Hearst. Also joining the Kudos board are Jan Christopher Maier and Dominic Ely. Jan founded AVEDAS, a software company, providing the leading Current Research Information System CONVERIS to the university sector. Dominic brings over twenty years' experience as a finance professional. His most recent role was CFO / COO of Zinc Ahead, a fast-growth, international software-as-a-service provider to the corporate life sciences market.
These key appointments follow the successful close of a second funding round for Kudos.
"I'm extremely pleased to be welcoming Jon, Jan and Dominic to our board," said Melinda Kenneway, Executive Director of Kudos. "We're a small team of committed people with a big idea – to help research have more impact. We're grateful for the support of our users and customers as we continue to bring this idea to life. I'm looking forward to the additional skills and insights that this experienced team will bring to assist us in developing and delivering exemplary services for the research community."
Jon Conibear added "I have been impressed by the commitment of the management team and the progress Kudos has made in a relatively short period of time in winning the support of almost 100 world-leading publishers, societies and universities in just over two years. I look forward to supporting its strategic development."
-- ENDS --
Contact:
Charlie Rapple
charlie.a.rapple@growkudos.com
+44 1865 872527
About Kudos
110,000 researchers have signed up to use Kudos' free platform for managing communications around their publications – across multiple publishers and tools. They explain work in plain language and generate trackable links for sharing via email, web and social networks; these enable communications to be directly mapped against views, downloads, altmetrics and citations. Kudos thereby provides researchers, and their publishers and institutions, with a rich understanding of which channels and activities are most effective for broadening reach and impact. Kudos has almost 100 publisher, society and university customers around the world. Kudos was named Best New End User Product at the 2014 Charleston Advisor Readers' Choice Awards and won the 2015 ALPSP Award for Innovation in Publishing. It has been named in Outsell's "Ten to Watch" for two consecutive years.